What is EVO Visian ICL?
EVO Visian ICL, also known as an Implantable Collamer® Lens, is a premium refractive solution to correct myopia (nearsightedness) with or without astigmatism. Unlike other vision correction procedures, the EVO Visian ICL is an additive technology meaning your natural eye is left untouched. Although the EVO Vision ICL is meant to be a permanent vision solution, it can be removed by your doctor. The EVO Visian ICL is soft, flexible, and made up of collagen, a biocompatible material that works in harmony with your natural eye.
At Skyline LASIK,
Dr. Chang – along with his educated staff – takes time to fully assess your overall eye health and vision goals to determine if the EVO Visian ICL is a good option for you.
Ideal candidates for EVO Visian ICL:
Are between the ages of 21-45
Have moderate to severe myopia (nearsightedness) with or without astigmatism
Have thin corneas and/or diagnosed with mild keratoconus
Suffer from dry eyes and/or diagnosed with certain autoimmune diseases
Were told they weren't a good candidate for laser vision correction
Are looking for a premium solution to correct their vision
What to Expect During the EVO Visian ICL Procedure
The EVO Visian ICL procedure is performed at a nearby Ambulatory Surgical Center. You will receive relaxing medication along with medicated eye drops at the beginning of your procedure to make you comfortable. Dr. Chang will then create three small incisions on the side of your cornea that he will use to insert and position your EVO Visian ICL implant. The entire procedure is performed in less than 20-30 minutes, and you will begin to enjoy your vision right away. Dr. Chang will then continue to follow you over the course of several weeks to ensure you are healing well.
4 Steps to Better Vision
Benefits of EVO Visian ICL
Sharp, clear vision1
Exceptional vision day and night2
Works in harmony with your natural eye
Does not cause dry eye syndrome3
Soft and flexible
Removable by your doctor if ever desired which gives you flexibility for the future
Quick procedure and recovery with minimal downtime
Great option for people who are not a LASIK candidate or those with thin corneas4
Built-in UV Protection
Not visible once in place
Cost & Payment Options for EVO Visian ICL
The cost of an EVO Visian ICL procedure can vary depending on your personalized treatment plan. Many EVO Visian ICL patients look forward to spending less money in the long run compared to the ongoing cost of glasses and contacts. Ask about our payment options for your EVO Visian ICL procedure.
Our Commitment to you:
At Skyline LASIK we are committed to providing exceptional patient education. That's why our staff are Certified Practice Champions: they have completed the training program provided by STAAR® Surgical so they can provide you with the information needed to make a confident, informed decision about the EVO Visian ICL.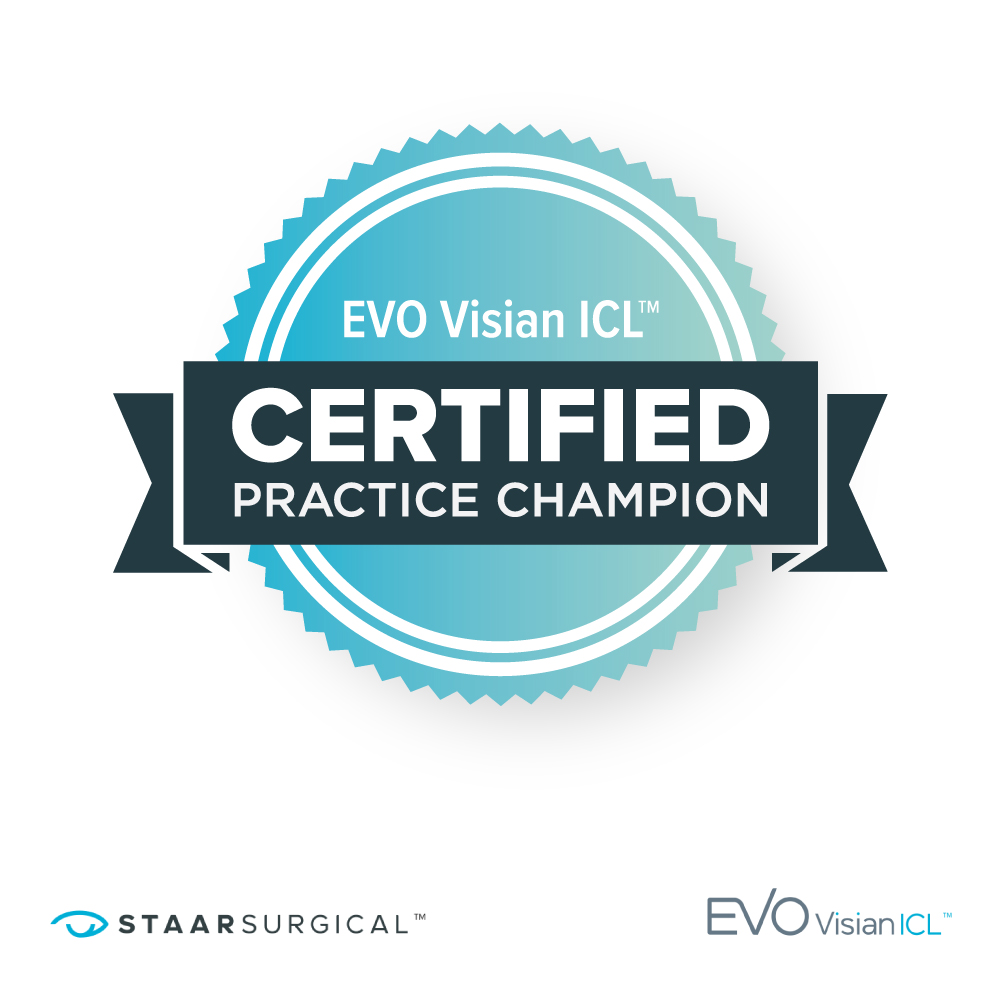 Ready to Become Another One of Our EVO Visian ICL Success Stories?
Schedule a complimentary consultation with our team!
1 Igarashi A, Kamiya K, Shimizu K, Komatsu M. Visual Performance after implantable Collamer lens implantation and wavefrontguided laser in situ keratomileusis for high myopia. Am J Opthalmol. 2009
2 Martinez-Plazs E, Lopez-Miguel A, Lopez-De La Rosa A, et al. Effect of the EVO+ Visian Phakic Implantable Collamer Lens on Visual Performance and Quality of Vision and Life, Am J Ophthalmol 2021;226: 117–125
3 Ganesh S, Brar S, Pawar A. Matched population comparison of visual outcomes and patient satisfaction between 3 modalities for the correction of low to moderate myopic astigmatism. Clin Ophthalmol. 2017 Jul 3;11:1253-1263.
4 Parkhurst G, Psolka M, Kezirian G. Phakic intraocular lens implantation in United States military warfighters: A retrospective analysis of early clinical outcomes of the Visian ICL. J Refract Surg.2011;27(7):473-481